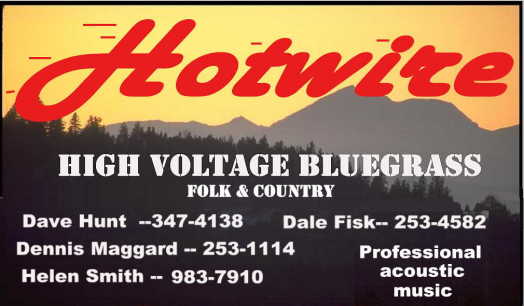 Left - Right: Dennis Maggard, Helen Smith, Dave Hunt, Dale Fisk
OUR CD "I've Lived a Lot in My Time" -- 14 songs
Samples from the CD:
(Click on each to hear. Be patient, they may take a few seconds to start.):
Reviews:
Hotwire is one of the premier Bluegrass Bands in the Northwest.
If you have never seen them, this is your chance to enjoy
some hard-driving bluegrass played by the masters.--Bob Greer, Bluegrass in the Barn, Nampa, Idaho
I've seen Hotwire many times and each performance is better than the last. They are fabulous in the park, on stage, or in your backyard! They have an edgy, sharp sound--it's Bluegrass with attitude! Jen T.-- Eugene, Oregon
We highly recommend the band "Hotwire." We were privileged to have them for a show at our Old Opera House Theatre in Kooskia, Idaho. Our audience really loved their music and their song selections were great. They were excellent on their musical instruments and vocals. They really interacted well with the audience and provided a real electric, fast-paced show which the audience responded to with a standing ovation. As owners of the theatre, we were pleased to work with Hotwire and plan to have them back. -- <![endif]> Mike and Marcia Graves, Old Opera House Theatre, Kooskia, Idaho
"I thought Hotwire was wonderful -- you just keep pushing the edges out a little further. So much power and drive and the joy of hearing such excellent musicians all playing together. It is like a most wonderful and intricate classical dance. Or even better -- I love Hotwire's music for the same reason I love chamber music." Carolyn Johnson, board member of the Idaho Bluegrass Association, after our first 2012 performance at Kamiah, Idaho in May.
Some of our 2011 Performances:
Mount St. Helens Bluegrass Festival--Toledo, WA
Art on the Green--Coeur d'Alene, Idaho
Bluegrass on the Greenbelt--Idaho Falls, Idaho
Council Mountain Music Festival--Council, Idaho (Headline act)
Weiser Old Time Fiddle Contest and Festival—Weiser, Idaho
Grangeville Arts Concert Series—Grangeville, Idaho
Kooskia Opera House –Kooskia, Idaho (sold out, standing ovation)
Some of our 2012 Performances:
July 7 - Boise Music Festival
August 3 - Art on the Green - Coeur d'Alene, Idaho
August 4 - The Dahmen Barn - Uniontown, WA
August 11 -- Concert at New Meadows, ID
August 25 - Private barn dance, New Meadows
Sept. 1 - Idaho Sawtooth Bluegrass Assoc. Fall Festival, Round Valley, ID
Click here to watch "Can't Stop Now" on YouTube --
performed at the Darrington, Washington Bluegrass Festival, July 20, 2007
with our former bass player, Whale.
----------------------------------------------------------------------
Back to home page (dalefisk.com)
---